1000 Satellites Pilot
in the BASF Learning Center in Ludwigshafen
(This pilot will be for BASF employees only)
From BASF & For BASF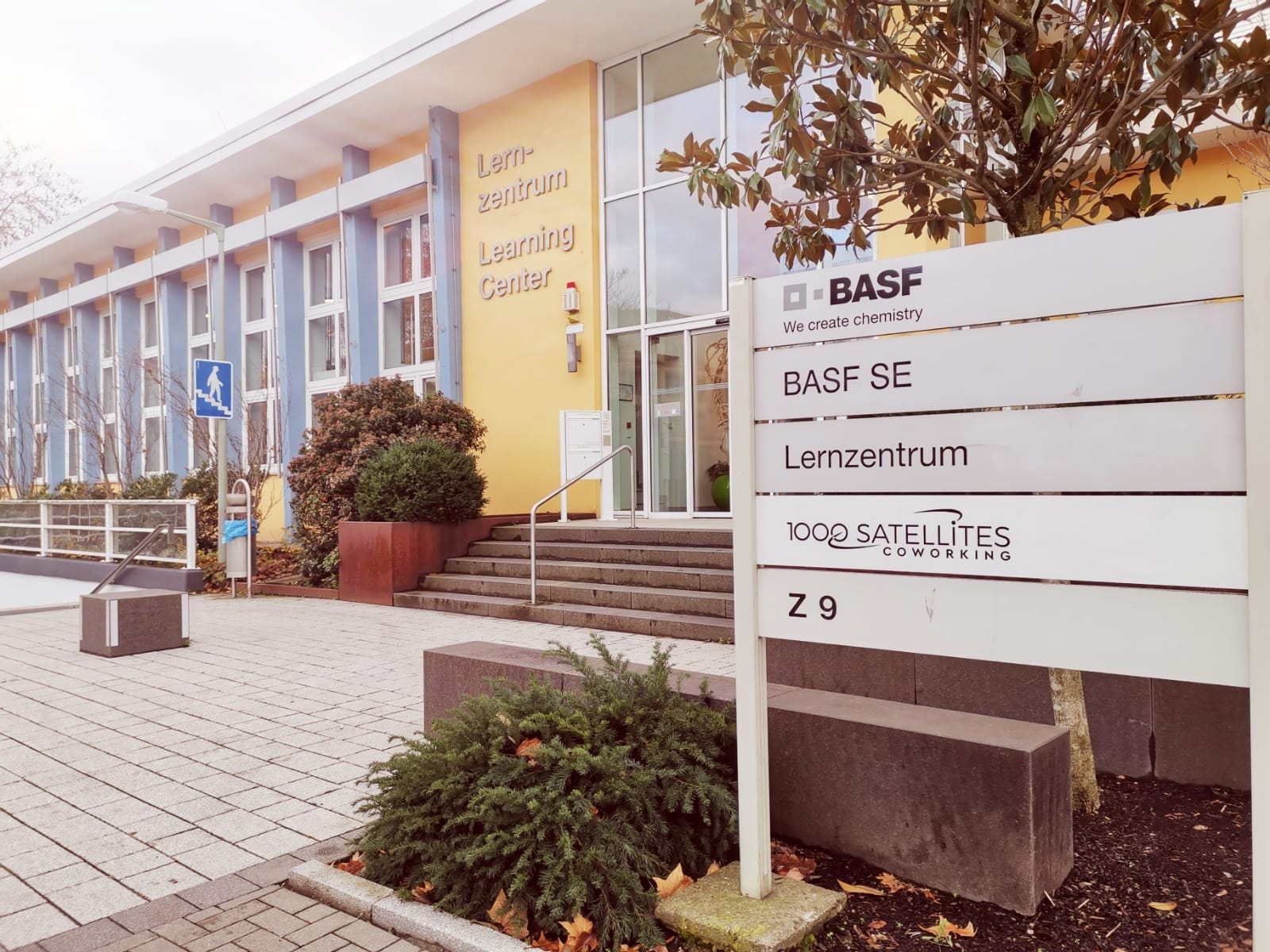 Please use Chrome, Firefox or MS Edge for booking.

Stay healthy while working

Work with entire project team in one place

Use the latest IT equipment

Experience Starter-Seminar atmosphere again
Important Information
& Frequently Asked Questions
(English version below)
Öffnungszeiten: 8 Uhr - 20 Uhr (15.10 - 30.6.2020)
Vom 20.12.2019 - 6.1.2020 ist der Pilot in den Winterferien und geschlossen.


Hier findet Ihr die Nutzungsbedingungen unseres Pilot Coworking Spaces.


1. Wieviel kostet ein Arbeitsplatz im 1000 Satellites Piloten im Lernzentrum?
14€/2 Stunden, bzw. 19€/3-5 Stunden (Halbtagestarif), 29€/>5 Stunden (Tagestarif)
Darüberhinaus können auch ganze Räume zu Festpreisen gebucht werden.

2. Wie bezahle ich meine Buchung?
Deiner Kostenstelle wird der Betrag automatisch in Rechnung gestellt.
Du brauchst nur Deinen Zeitraum stundengenau buchen.

3. Wer kann den Piloten nutzen?
Jeder Mitarbeiter der BASF darf diesen Piloten im Rahmen der individuellen Regelungen zum mobilen Arbeiten seiner BASF-Einheit nutzen. Im Zweifelsfall bitte vorab mit dem Vorgesetzten abstimmen.

4. Kann ich den Piloten als externer Mitarbeiter nutzen?
Leider nicht, aber lass uns in Kontakt für die Eröffnungen unserer ersten Satelliten in Mannheim-Vogelstang (März 2020) und Neustadt an der Weinstraße (August 2020) bleiben. Diese werden für Freiberufler und Angestellte aller Firmen offen sein.

5. Wie kann ich einen Arbeitsplatz buchen?
Registriere dich, indem du auf den Butten klickst oder den QR-Code scannst.

6. Ich kann keinen Arbeitsplatz buchen, da er mir als "nicht verfügbar" angezeigt wird.
Prüfe bitte, ob das Datum nicht in der Vergangenheit liegt und ob die Uhrzeit von 08:00 -20:00 eingestellt ist. Wenn der Arbeitsplatz trotzdem nicht verfügbar ist, sind alle Plätze für diesen Tag ausgebucht.

7. Kann ich einen Arbeitsplatz auch stundenweise buchen?
Ja. Der passende Tarif wird automatisch der stundenweisen Buchung zugeordnet.

8. Meine Buchung klappt nicht - was tun?
Bitte nutze als Browser entweder MS Edge oder Firefox oder Dein BASF Handy.
Leider funktioniert die Anwendung nicht im MS Explorer.


Hast du weitere Fragen oder Anregungen?
Kontaktiere uns gerne unter kontakt@1000satellites.com
Important Information &
Frequently Asked Questions
(English Version)
Opening hours: 8 am - 8pm (15.10 - 30.6.2020)
From 20.12.2019 - 6.01.2020 the pilot will be closed due to winter holidays.

Please follow this link to find the latest user terms for our pilot coworking space.


1. How much does it cost?
14€/2 hours (drop in pass), 19€/3-5 hours (half day pass), 29€/>5 hours (day pass)
In addition, entire rooms can be booked at fix prices.

2. How do I pay for it?
Your cost center will be charged automatically.
You only need to book the hours of your stay.

3. Who can use the pilot?
Only BASF employees can use the 1000 Satellites coworking pilot in accordance with the mobile working regulations of their unit. If in doubt, align with your manager.

4. Can I use the pilot as an external employee?
Unfortunately not, but lets stay in touch for our upcoming satellite openings in Mannheim-Vogelstang (March 2020) and Neustadt a.d.Weinstraße (August 2020).

5. How can I book a workplace?
Register using the order button or the QR-Code.

6. I cannot book a workplace since it appears to be 'not available'?
Please check if the date is not in the past, and whether the time is indeed set from 08:00 - 20:00. If you still cannot book it, the resource is booked out for the particular day.

7. Can I book a workplace only for 1 or 2 hours?
Yes, in addition to the daily rate we have set up a drop in rate for 2 hours and a half day pass. Just book here.

8.My booking doesn't work - what can I do?
Please use as a browser MS Edge, Firefox or use your mobile phone.
Unfortunately, the booking application does not work with the Internet Explorer.


If you have any additional questions regarding the reservation or booking process feel free to contact us at kontakt@1000satellites.com.


Machen Sie sich mit der Fluchtwegesituation und den Standorten der Lösch- und Rettungsmittel vertraut.
Please get familiar with our alarm plan, the emergency escapes and the fire extinguisher and first aid kit position.